Resources Module
Module Overview
The Resource Module is a useful tool when you need to allocate or track resources related to a Project or Task. Additional resources could include things like conference room, copiers, ect..
Resources List View (Resources Index)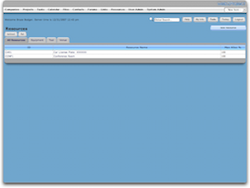 The Resource Index page contains a set of tabs which you can define in the system administration lookup values. By default these tab represent the resource type.
Tab 1: All resource
Tab 2: Equipment
Tab3: Tools
Tab4: Venue
The first column shows the Resource ID. The second column shows the resource name, and the third column shows the maximum allocation for that resource.
To create a new resource, click the new resource button on the upper right of the page.
Resources View page (Resources view)
Clicking on the resource ID will take you to the resource view page which shows detailed information about the source.
Resource ID
Name of Resource
Type
Max Allocation
Description
Resources Add/Edit Screen (Resources addedit)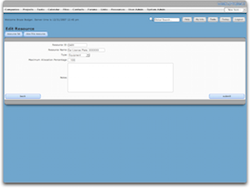 Clicking on the "New Resource" button or the "edit resource" button will take you to the Add Resource page.
From this page you can:
Manually create an ID for the resource
Give the resource a name
Assign the type of resource
Maximum Allocation
Add Notes about the resource.